More than books on a shelf.
FREE WI FI

Our little library is wired for WiFi and it's FREE for the general public to use at any time, even when we're closed because our WiFi coverage extends onto the lawn and into the parking lot! Our WiFi is called Library Wireless and does not require a password to sign in.

PUBLIC COMPUTERS

At present there are 2 computer stations available for public use. Southern Adirondack Library and Mohawk Valley Library systems cardholders can reserve computers ahead of time. Insure availability by calling. These reservations are for 30 minutes on the half hour. Otherwise, computers are available on a first come first served basis. Users are subject to our Internet Access Policy:

Anyone 11 or under must have a parent or guardian present at the internet workstation during a session. No supervision, no use.
Anyone under 18 must have parent or guardian present to sign the internet agreement.
Any patron found to be using the internet inappropriately will be subject to disciplinary action.
Time is limited to 30 minutes when others are waiting to use the computer.
SCAN/COPY/PRINT
Our printer/copier is available for public use at a cost of .25 cents per page. Scanning and faxing is free!
PERIODICALS
We carry subscriptions to various publications, both daily and monthly. Current and back issues of magazines are available for loan. Issues are kept for one year before being discarded, excepting Adirondack Life which we archive. Daily publications are kept for 30 days before being discarded and are available for in library use only. Daily publications include the Post-Star and the Lake George Mirror.
KIDS STUFF
Legos. So many Legos. In addition we also have crafting materials, Ozo Bots, good ole fashioned blocks, coloring books, puzzles and some other random toys to pass the time on a rainy day. Coming soon: board games that you can use in the library, or check out and bring home!
Museum passes are family admission passes for local institutions. They have a 7 day loan and are also holdable for pickup. Each pass comes with different benefits!
Current passes include:
The Wild Center
Adirondack Experience, The Museum at Blue Mountain Lake
The Hyde Collection
Up Yonda Farm
World Awareness Children's Museum in Glens Falls
PUBLIC MEETING SPACE
Our finished basement is now available to the public. In addition to housing our book sale, the space is rated for an occupancy of 57 people so if you or a group you are affiliated with is looking for a place to hold a meeting, workshop, seminar, speaker, presentation etc. feel free to contact us.

AFTER-HOURS BOOK DROP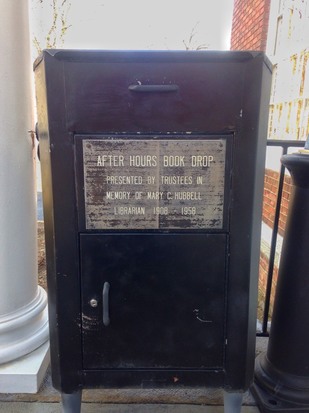 This is our outside drop box. We love this little guy as he not only keeps returned materials warm and dry but also because accepts materials from ANY OTHER SALS MEMBER LIBRARY.
That's right, drop anything from any other SALS library and we'll see that it makes it home safe and sound.
PARKING
There is a small parking area behind the library available for patron use. Additionally, patrons may park in the spots on Canada Street in front of the library for fifteen minutes. If you are ticketed for parking in these spots within fifteen minutes while using the library, please present your ticket and library card to the Library Director to have it resolved.