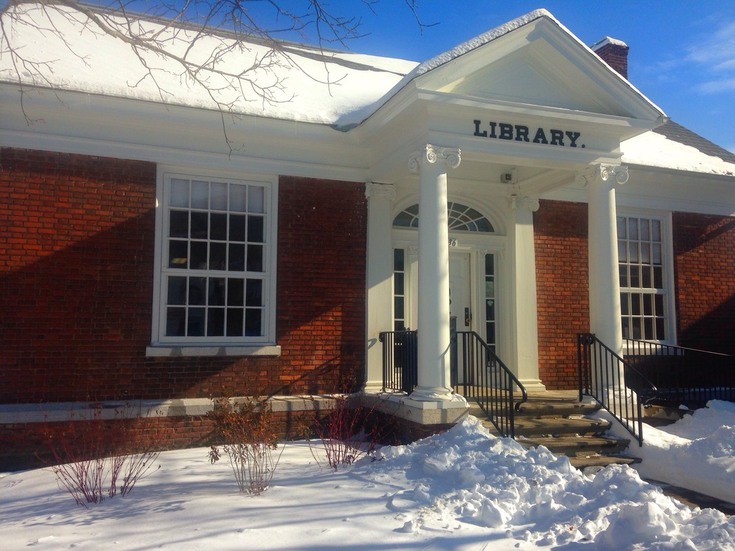 ---
The library has a somewhat storied history that dates back to at least 1887 according to the records kept by Miss Mary C. Hubbell, who served as Librarian from 1908 to 1958. Until its incorporation in 1903, our lakeside community was known as the Village of Caldwell and it is two former residents of this formerly named hamlet that we have to thank for our library.
Upon his death in 1887 DeWitt C. Hay (a past resident of Caldwell) bequeathed his property and possessions, which included his rather sizable personal library, to his widow. Hay had also expressed his desire to see his collection form the nucleus of a public library to be founded in his former home town. Hay's wishes were expressed publicly in a series of local meetings the following year and resulted in the founding of the DeWitt C. Hay Library Association of Caldwell.
Then, in 1893 Reverend Charles W. Blake (pastor of the Presbyterian Church in Caldwell) organized and chartered a library to be known as the Lake George Free Library. The library and its collection comprised but a few rooms in the rear of the church until 1905 when a Mr. James A. Hayden offered to donate a lot upon which to build a suitable library proper.
The following year an application was made to the Regent of New York State for a charter for the Caldwell-Lake George Library and construction began. By July of that year (1906) our library as we know it opened to the public, housing the combined collections and property of the DeWitt C. Hay Library Association and the Lake George Free Library.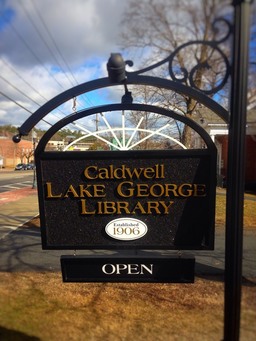 Our library is now funded by the Town of Lake George with additional funds from county and state contributions. We are also a member of the Southern Adirondack Library System (SALS), which serves Warren, Washington, Hamilton and Saratoga counties. In conjunction with SALS, we also work with the Mohawk Valley Library System (MVLS) to provide our patrons access to over a million items housed by our combined 57 member public libraries.