When:
December 4, 2022 – January 31, 2023
all-day
2022-12-04T00:00:00-05:00
2023-02-01T00:00:00-05:00
Where:
Caldwell-Lake George Library
336 Canada Street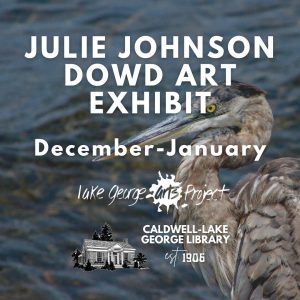 Julie Johnson Dowd is a local wildlife photographer who noticed two things at the onset of the COVID-19 pandemic: fewer people, more wildlife. The more she looked throughout her walks, the deeper she felt peace come from her connection to the water, the waves, and the wildlife, be they the common seagulls or the more impressive loons. She began documenting what she saw while she meandered, and each trip led to new discoveries, and even more photographs.
Her work will be on exhibit in the Art Corner at the Library all December and January!
Project Local is brought to you in partnership with the Lake George Arts Project.