When:
September 15, 2023 @ 7:30 pm
2023-09-15T19:30:00-04:00
2023-09-15T19:45:00-04:00
Where:
Caldwell-Lake George Library
336 Canada Street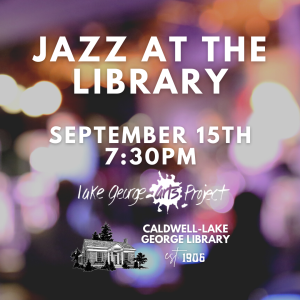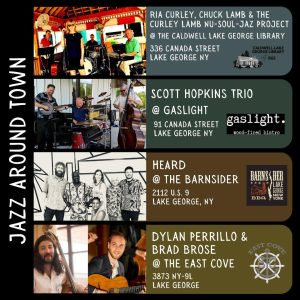 We are excited to announce The Ria Curley Chuck Lamb Nu-Soul-Jaz group will be performing at the library!
The Library is one of the locations around town that will be hosting regional jazz favorites artists from Jazz at the Lake for a one night performance on Friday, September 15th at 7:30 pm. This program is brought to the Library in partnership with the Lake George Arts Project.
The Ria Curley Chuck Lamb Nu-Soul-Jaz group features the dynamic duo of singer/songwriter Ria Curley & pianist/composer Chuck Lamb, joined by an alternating lineup of one or more of their talented musician friends, performing a unique, hooky combination of instrumental & vocal, original and standard, Jazz/Fusion and Smooth R&B/Pop/Rock.
CHUCK LAMB has been the pianist for the Brubeck Brothers Quartet (BBQ) for over a decade and has composed for and played with BBQ all over the world, including the Newport Jazz Festival, Lincoln Center, the Blue Note in Tokyo, Moscow, Singapore and more. Chuck is presently artist-in-residence for the monthly "Jazz at Caffe Lena" series in Saratoga Springs.
RIA CURLEY is an accomplished songwriter (music and lyrics), composer and vocalist known for her silky voice, groove-oriented R&B originals and "nu-jazz" standards. Ria is honored to have 22 of her original songs signed to publishing giant Warner/Chappell Music Publishing and to have received airplay for her songs on major radio stations in NYC and beyond.
Individually, as well as together, Chuck and Ria have received accolades regarding their musical talents…
"Chuck is an extremely creative, harmonically interesting, rhythmically exciting pianist and one of the best improvisers I've heard in recent times!" – Dave Brubeck
"Ria's voice has range, emotion and a sense of drama… if you care about love, you should buy her music…" -Tom Kuntz, fan (& New York Times Editor)
To find out more about our featured musicians and Jazz at the Lake, visit the Lake George Arts Project at:
We hope to see you Friday night!!