When:
February 1, 2023 – March 31, 2023
all-day
2023-02-01T00:00:00-05:00
2023-04-01T00:00:00-04:00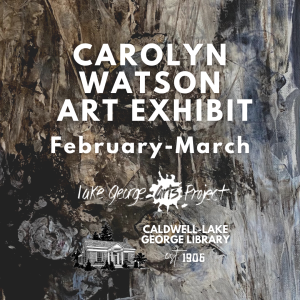 Carolyn Watson takes whatever she can find and gives it new life through her artwork. Her pieces include a variety of materials such as recycled plastic, candle wax, and many other miscellaneous items. She uses these materials across multiple mediums, with a particular focus on mixing the traditional and nontraditional. Watson has always been drawn to the items in life that are deemed useless. Ultimately, she may not use materials with their intended purpose in mind, but through her work, they can take on a new meaning. Her inspiration comes from her personal experience and observations, particularly the darker elements of life. Watson thinks of herself as a storyteller, but instead of words, she uses whatever she can find to tell her story.
Her work will be on exhibit in the Art Corner at the Library February 1st-March 31st.
Project Local is brought to you in partnership with the Lake George Arts Project.