When:
April 28, 2021 @ 7:00 pm – 8:00 pm
2021-04-28T19:00:00-04:00
2021-04-28T20:00:00-04:00
Contact:
Laura Burrows
518-668-2528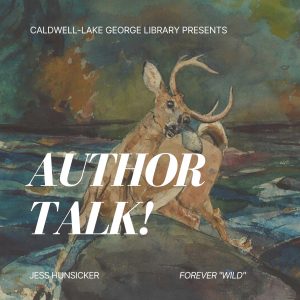 Our own library assistant Jess is now a published local author, having just released her first book Forever "Wild": A History of how Wilderness has been Constructed in the Adirondacks.
Hunsicker's portrayal of wilderness is a departure from the romantic leanings of the past, favoring a combined analysis of wilderness law, history, and written ecology to reach a point of understanding of how the land of the Adirondacks that is largely considered "forever wild" may really be anything but.
Paperback and Kindle copies of Forever "Wild" are available for purchase on Amazon.
Register for Hunsicker's book talk at the link below!
https://zoom.us/meeting/register/tJYpdeGqrz8iGNdyc9YZWwXhLNg64cMw8tdp