When:
February 24, 2021 @ 7:00 pm – 8:30 pm
2021-02-24T19:00:00-05:00
2021-02-24T20:30:00-05:00
Contact:
Caldwell-Lake George Library
(518) 668-2528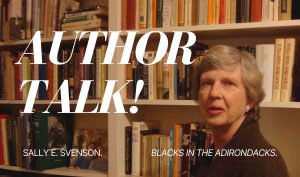 You must preregister to attend this event! Email us to receive the Zoom link to join this presentation from the comfort of your own home.
caldwelllibrary.lakegeorge@gmail.com
Sally E. Svenson is a prolific Adirondack and New York-based writer with articles about nineteenth century American figures from wilderness missionaries to Civil War veterans. Her third book, Black in the Adirondacks, knits together anecdotal and archival data to tell the stories of hundreds of African Americans who contributed to Adirondack life as farmers, miners, hotel workers, and entertainers between 1850 and 1950.
Caldwell Library, which hosted Sally's first presentation on the book after it was published in 2017, is proud to welcome this imminent historian for an hour of presentation and conversation. Sally's first book, Adirondack Churches: A History of Design and Building, received a "highly recommended" rating from the American Library Association in June 2007. Her second, Lily, Duchess of Marlborough (1854-1909): A Portrait with Husbands, was published in late 2011. One reviewer said Lily's story reads like a "newly discovered Edith Wharton novel."